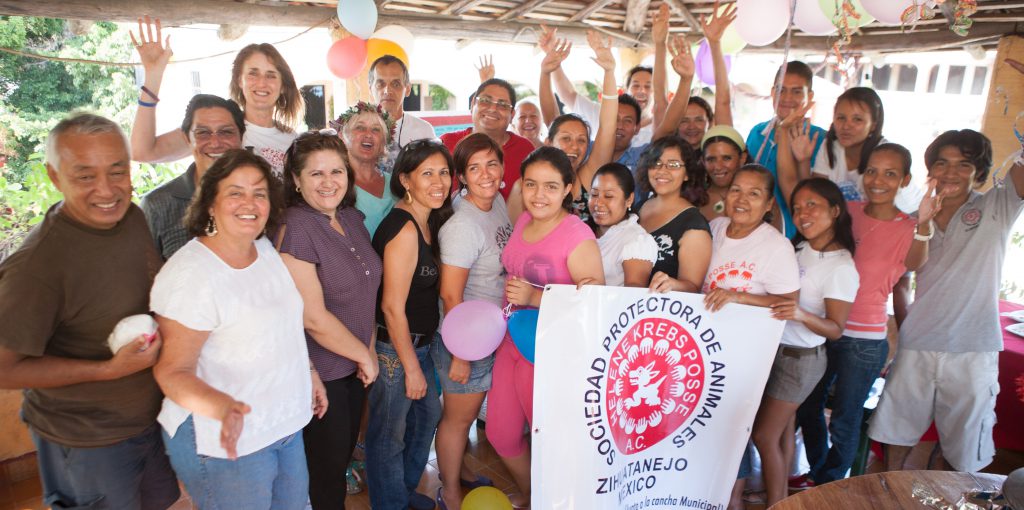 The Sociedad Protectora de Animales de Zihuatanejo "Helene Krebs Posse" A.C. (SPAZ- HKP) was founded in 1982 by Helene Krebs, a long-time resident of Zihuatanejo, Mexico, and passionate animal-lover, with the intention to give care, shelter and a voice to the abandoned, neglected, injured and mistreated animals of Zihuatanejo.
Today the Spaz-HKP continues to work for the animals focusing in three major areas:
Giving refuge and rehabilitation to wounded, sick or endangered animals, and promoting the adoption of dogs and cats.
Promoting spay and neuter low-cost campaigns and also two or three no-cost campaigns per year.
Providing education in community schools to build awareness in younger populations about the care and respect of animals.
BIENVENIDO A LA SOCIEDAD PROTECTORA DE ANIMALES DE ZIHUATANEJO "HELENE KREBS POSSE" A.C.
La Spaz-HKP fue fundada en 1982 por la Sra. Helene Krebs Posse, una mujer que radicó muchos años en Zihuatanejo y era una amante y defensora de los de los animales, con la intención de dar refugio y cuidados a los animales heridos, enfermos o abandonados que sufrían en las calles de este lugar.
Hoy la Spaz-HKP continúa su trabajo en pro del bienestar animal enfocándose en tres áreas principales:
Dando refugio y rehabilitación a animales heridos, enfermos o en extrema necesidad de todas las especies en nuestro pequeño refugio y promoviendo la adopción de perros y gatos.
Fomentando la esterilización de animales de compañía a través de nuestra campaña permanente de esterilizaciones a bajo costo y dos o tres campañas gratuitas al año.
En el Programa Educativo, dando pláticas en escuelas de nuestra comunidad para crear conciencia entre los más jóvenes sobre el cuidado y respeto animal.